The familiar theme and the familiar host. Priceless.
In the seat of A sits a reliable and assured IT-systems provider, who avoids tailoring. In B's seat, is a very confident king of interfacing, for which nothing seems to be impossible. As for C, his middle name is ERP.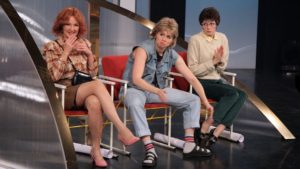 Behind the curtain is the buyer X, who is sweating in suspense. His dream a joined venture involving only jumping in joy. Gladness brought about by success. No shy looks or awkward fumbling of a first timer. Who would want that, when you could have someone ready to get to the second base?!
Testing and running a prototype is both hard work and expensive.
A, B and C are each professionals of their field, and each one of them a good choice for someone walking their path. But does X's choice always land on the best option out there? Can you know, before you have experienced living together, eating lunches and gone to the irrevocable Dating Game trip?
The salary system renewal in Canada anywhere from 3 million to 126 millions.
The IT-project of the city of Kajaani anywhere from 1 million to 3,5 millions.
Oriola: SAP failure, price tag unknown for now.
Is it so, that we already have so many interfaces and pieces that it is impossible to have a package that can actually server the business? Wiseguy could already point fingers at culprits. But could it be, that the fault lies somewhere else but the providers and requesters of IT-projects? Along the years, the system has had layers upon layers added onto them. Each actor does their best in an impossible situation.
It is no accident that I increasingly come across development teams, who have decided to toss decades of baggage behind and recode their products again. It is not only the cheapest, but also the fastest solution.
Fitting and taking up a new system demands a lot. It demands in-depth learning, and a solid grasp from especially the buyer.
What if a tester would be X's saving straw on their trip to becoming millionaires? 50-50, and phone a friend