A tester's job is to offer their helping hand, so that the product stays in a good shape and the project keeps to its schedule. When we observe our surroundings, it can be seen that the helping is infused with a lot of unspoken meanings.
Helping is a power game, where we make the other dependant on our help.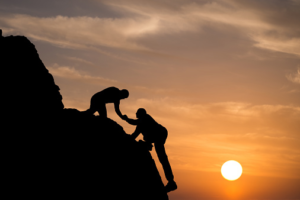 Why do we even help other people? Because we are selfish. Everything we do, carries within them a seed of selfishness. We do good unto ourselves and others, because doing the good thing makes us feel better about ourselves. In addition, we do good unto others, so that we could avoid feeling bad instead. Doing good and helping others by denying our selfishness – or especially doing it because we feel guilty – gives birth to unnatural relations of dependence, to which we get addicted to.
When we do good unto others by offering our helping hand, an unspoken power game is also given birth at the same time. A power game, where our power is dependant on the helped party submitting under our own power. When this happens, we do not wish to relinquish that achieved power.
Because we do feel ourselves important when something or someone is dependant on us.
Avoid giving birth to additional relations of dependence. Instead of offering your helping hand to a fallen, rather offer them a support, with which they can pull themselves back up. Offer help, which makes the weak strong, and strengthens the strong further.
Instead of how you have always been conditioned to think, perform acts of wisdom to make the success stories and the life of a software project in the work community around you not dependant on Your help. What follows will be amazingly marvelous.