I could not fall asleep in the evening. I kept pondering how the concepts molded by the past keep turning sour faster than we can comprehend.
Jesus is a concept with a a lot of historical charge. Similarly, it is not a coincidence that in Germany, a child called Adolf is very rare. Money is also a concept. How does it feel like to you when money is being talked about?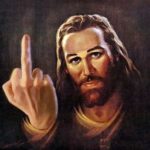 The bearded man in the picture is showing a universally known concept with his hand. Let me offer a few ordinary examples of concepts, whose transformation will eventually topple even large companies.
Strategy and tactics
We often feel like we work on empty, hollow, barrels in workshops. They are structures that exist beyond us.
Actually, the question is more and more about handcrafting and story telling, whose highest form is to show.
One could even call it art, because the content filling the structure is always subjective. The effect resides in another person's experience of it despite the structures.
Sales
It is no longer a question if I get to hold my practiced sales speech in front of a person. It is more often the question of if I dare and succeed to form a bridge between us, so that something valuable could cross it.
So that the person, who just a moment ago was a stranger, could get an opportunity to return the service I gifted in, let's say, euros.
Marketing
We skip the ads whenever it is possible. We install an adblock in our browser and even news letters are mainly an annoyance. Marketing has nothing to do with who shouts with the loudest voice.
Actually, the question holds true for everything we get around to doing:
Do I produce something useful to you right now, so that it is worth your while to sacrifice your time and attention for me?
If we cannot let go of moldy, stuck, concepts in time, someone else will sweep past us before we even know it.
What does recognizing this mean for the tester, the developer, the entrepreneur or even the boss of a listed company?