The mission of a tester is to make their developer colleagues stars, just like the map reader's mission is to make the rally driver the champion. No rally driver would be able to shine for too long in their occupation without the professional who sits next to them, because the teamwork for brilliant results is possible only by walking in stride.
You can think of this the other way around: How good a job would the map reader do by waiting at the finish line telling the driver how the race went after it has concluded?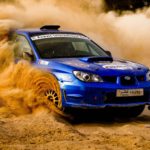 It is surprisingly often still these days how people forget about testing and handle it this way. Even though the tempo of the business condenses fast, the working methods of testing drag their feet behind. Performing maintenance and fixes on software has never been this easy. In a wisely primed development team the distribution of an update to the end user only takes one press of a button.
A tester fiddling around at the checkered flag starts to be helplessly late.
We have often thought how the role of testing is similar to the final inspection for a building erection project. Earlier, we fought in gigantic information systems projects to prove the first date at an altar to function.
The faster the software development becomes, the surer it is that an expert thinking in old school ways become a needless expense.
P.S. I invite you to forge success stories. If you ever get inspired by the thoughts in our blog, it might be that the next Tester 3.0 training will change the flight altitude of your career as well as your life's.