The night was cold and lightless. Leaves turned yellow by the autumn covered the moist surface of the asphalt, whose black colour seemed to absorb even the smallest rays of light, which the dim and occasionally flickering street lamp cast upon the earth. The expectation in the air manifested into pillars of steam as it met exhalation. Torn cloud cover revealed momentarily the pale moonlight, whose ghostly illumination was reflected from the Predator's eyes in the darkness of a shadow-filled alley. It awaited for its next Victim, certain and confident. It knew that the Victim would be coming to it that night. It had happened before, and it would always happen again and again. The Victim gave meaning for the existence of the Predator.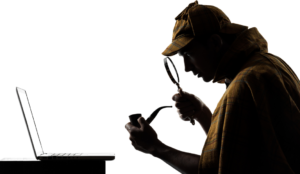 The tester is an eye witness for a crime. A witness, who is called forth at the beginning of a trial. Not one, whose bloodthirsty axe split the skull of the victim with the force of a determined swing. Not the one, whose finger pressed against the trigger with the cold murderous certainty. But the one, who came to the scene just after the crime had been committed, one breath too late to prevent the sin that had taken place. The tester is a witness in an eternally continuing trial, who has sworn to give a truthful and responsible depiction of the real chain of events that transpired.
It is an undeniable fact
that the crime had already been committed
by the time when the tester arrived.
The software had arrived to the tester's desk already broken. Some chain of events had made a weakness come about, which had settled inside the software before the start of a test cycle. That, what is known of the software during the beginning of the test cycle is usually a misguided understanding, which is based on uncertain assumptions and expectations. They fabricate a veil – an illusion – behind which the weakness can easily hide unbeknownst to anyone. The actual quality is revealed, when the heart of that illusion is sundered.
All crimes wait for their witness – the story teller – who could let the might of their words tear the veil of delusions in twain, letting the bright light flow in through the windows. Respectively, all bugs await for their discoverer, because only the discoverer can give meaning for the existence of a bug.
Tester's job is not to break the software, but the illusion of it.