Don Rosa is wonderful. Once upon a time I queued at the Stockmann store in Oulu for a chance to finally shake his hand. I also got his signature to the front page of my Escape from Forbidden Valley book. I still get moved by the fellow.
To me, Rosa's inimitable illustrations and shockingly skillful delivery of a story are in a league of their own when it comes to comic book arts. A memory of Scrooge pouring coffee in Klondike still makes me laugh. The coffee of gold diggers was so strong it had to be cut with a knife!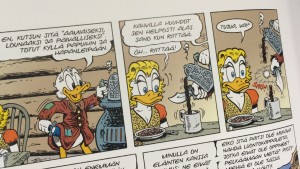 In comics I am the most fascinated by how their plot is based upon stills separated from the flow of time. That is, in moments of truth that converge to build a story. All the work and action takes place between those stills. The mind fills the gaps.
Have you ever given thought as to where your work's most important stills are? Or how you could make them into an art?
By tuning the moments you choose you shape the experience of your fellow traveler. That is how the value of your story gets a chance to really grow.