Would you be interested if I were to promise you a magic trick as a Christmas present, with which you could, for example, improve your resistance system, brighten up your thoughts, lower the amount of stress hormones in your system, develop your problem solving abilities and solve differences in work and on free time?
Indeed. Would you? Be interested, that is.
I daresay this to work, since I have come across sufficiently many research results regarding this lately. The horrifying part is that not even my personal experience of trying it almost wasn't enough to convince me, because we people do not tend to believe in results brought about by patient work. Especially, if it demands very little on your part, or if it threatens to insult your methods of though which are already set in their tracks.
Google it, if your ego won't otherwise believe it! Benefits of Journaling.
Successful people and people who train them tell in unison, that one of the most important methods of continuous success is a journal. That is, a practiced method of making notes. And preferably on paper rather than on screen. It means tuning your most important tool towards better results.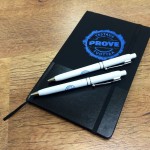 If you cannot figure out where to start, the first thing you do when you wake up write in your notebook one thanks, the main goal of your beginning day and finally tempt fate by writing one sentence which start with the words "I am…".
Now, keen on the idea and driven wild by the last day at work this year I promise the following:
Send me an e-mail with the subject "journal". In it, tell your name and your address. I will send you a pen and a notebook full of empty pages. Then the stage is yours. Merry Christmas, and make the year 2016 awesome!
P.S. These are only available for the first 100. The address is: firstname @ prove.fi