I am regularly in trouble with the receipts that come from using the firm's credit card. I used to be able to bathe in their sheer number every three months, as if visiting a ball pool in the local Hop Lop.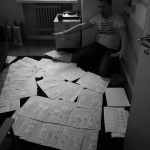 Then I found the eTasku app and was saved. Almost. Now, I am troubled by the receipts that I have forgot to document with eTasku app. Today, I was frustrated for three hours because of a service fee by Finnair. I could not find the receipts from May in my inbox.
Finnair's customer service was very helpful and found the missing receipts in a minute. Politely, the fellow on the end of the line remarked:
I do see the billing event here. I should charge you 10 euro service feefor each receipt sent. How should we go about this?
I balanced on the verge of frustration for a second that seemed to stretch for an eternity. I was just about to dive through the telephone lines to ruin the day for both of us, when the fellow took me by the collar and saved us.
Hey… Are you by any chance looking at your email right now? The service fees give you receipts from another address. The domain is Amadeus.net and not Finnair.
Now, half an hour and two cups of coffee later I am actually feeling pretty damn good. Hot damn, that fellow knew what he was doing!
The help was actually quite valuable. A weak service process almost ruined the entire thing, but the customer service saved the entire game. Think about these for a moment:
Logistics and a driver

Cleaning and a cleaner

Expertise and an expert

Health care and a nurse
A Finn is a key issue oriented person. To us it feels like it is enough that the testing is done, the code has been written, or that the lunch has been brought to the table. And this is the truth! And it is enough, if you feel like being ok with lame stories.
A genuine success story is only born when someone manages to raise the bar in two vital areas: That what is being Done and in Who is doing it. To put it more simply: In the ACTIVITY and the PERSON.