Penicillin revolutionized medicine in 1941, when the first clinical trials were completed. A doctor and an author Lewis Thomas described the time before that critical turn of a tide frankly:
If being in a hospital had any impact on surviving, it was primarily due to the shelter, nourishment and care by nurses that the place offered. Medicine had little if any meaning.
Only 75 years ago a doctor was an artisan who knew all there was to know, who investigated and told how to be treated, all by himself. He took the samples, cultured the bacteria and might have even taken a look at them with a microscope. With luck, the doctor could have had a talent of asking personal questions and saved the patient from syphilis by giving a solution of mercury, bismuth and arsenic. There was a handful of known diseases and only a fraction of them had a known cure.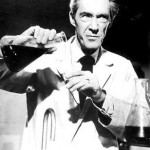 Medicine is a very young branch of science, but already we know over 4000 different chirurgical and medical procedures. Doctors can legally prescribe 6000 different kinds of medicine for a patient. At the beginning of a millennium we had categorized over 22000 different diseases according to DNA.
Excluding House MD from the television, no doctor can ever know all of those.
In John Hopkins's hospital in Maryland, USA, they even calculated how the staff taking part in a treatment has changed per patient. In 1970, nurses and doctors taking part in one treatment were around 2,5. In 1999, that number was already over 15. These days even more.
But now I have to apologize! In testing-related discussions I have often claimed the following:
Tools and methods come and go, but testers stay. The main thing is that we get results!
We do need to get results, but otherwise my claim has been spoken garbage. Like straight from the 40s medicine!!! No one can grasp it all, which is why medical doctors specialize.
In actuality we need testing gurus in automation, performance, information security or usability. We need testing gurus in even single areas of business, such as mining, energy or medical technology!
ATTENTION!!! If you harbor a wish to join the gurus at Prove, now would be a good time to send, for example, e-mail to (firstname@prove.fi) and tell us where your expertise lies!