As a little kid I went through the entire elementary school in an idyllic yellow wooden schoolhouse. The school of Koivuharju had its own kitchen as well, where Martta prepared our snacks, and each class was attended by a comfortable handful of pupils. The concept of split classes was foreign. The school still exists, although during summer time it is pretty quiet in there.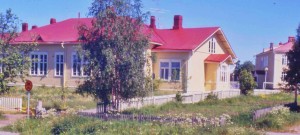 We started our first foreign language in the third grade. English classes were started from the basic vocabulary and by coming up with English names for us. I was Andy. My pal Aki wanted definitely to be Jake, as he happened to be a big fan of the 'Jake and the Fatman'–series.
In all language teaching there comes a phase pretty soon where people start to practice talking with a friend. For the sake of practice, people engage in dialogue, like Jake and I:
Hi. My name is Andy.

Hi Andy. I'm Jake.
You learn much from the dialogue and you can quickly receive feedback from your friend.
But let's think for a moment, what if that exercise were to be executed like in a modern software project? The friend as a coder makes a change in the code and puts it in the version control. I as a tester catch it and reply after around a week, when the release is finished. In waterfall modeled development it can take even months. Who at all would benefit from that?
These days everything is in a hurry. That is why only a natural tight dialogue between development and testing can produce the results you are looking for!