We have a custom of offering coffee, and sometimes even coffee bread, to people who visit our office. It's always nice to have guests!
On the average, the people who come in for coffee take the following route: Enter the building through the entrance by pressing the buzzer, then enter the staircase, then climb the said stairs to the office door and through the door into the office. Of course, this route is one our employees also take.
This guy decided to use an alternate route: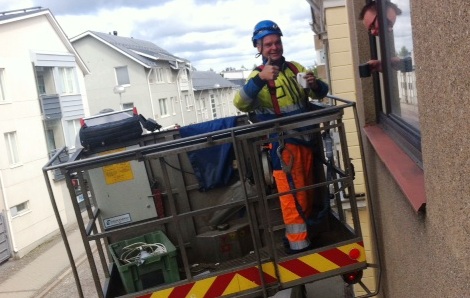 The street light repairman seemed quite content with the fresh coffee with milk and sugar. Apparently he had never had the pleasure of having a coffee break in the crane's cage before.
Softwaretesting.fi takes a summer break. Follow the street light repairman's example and do something this summer that you have never done before. Happy Midsummer and enjoy a sunny summer!