The very delicious, yet poisonous, brain mushroom season is approaching fast. That means wandering around in sandy boreal forests. An experienced brain mushroom gatherer knows the best spots and can also intuitively discover new mushrooming grounds.
As the new season starts, Matt the Mushroomer yet again drives to the end of a familiar forest road and goes hiking with his backpack. The goal is to reach the nearby pond to grill sausages over open fire, just like always in the spring time. Matt wanders around in the boreal environment, trying to actively spot any brain mushrooms that might be found near his intended path. He finds some and the backpack is getting heavier and heavier as he reaches the open fire site near the pond. Matt is satisfied.
Matt's day job is software testing. He decides to try out the new technique familiar from his workplace and writes down his exact path, step by step, in his map. When Matt has finished cleaning his haul and emptying them to a pot, he starts a new mushroom gathering trip. Could he find even more mushrooms if he were to retrace his steps?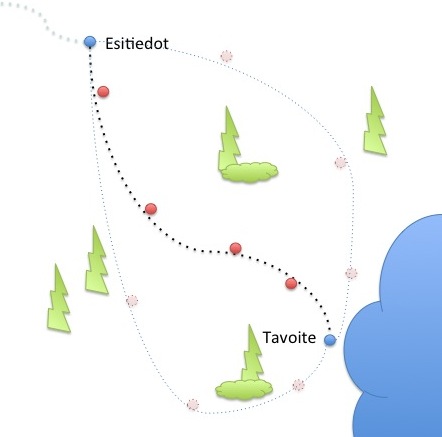 It went just as one should expect. Matt notes at the open fire site. The mileage walked anew did not yield any results. Documenting the mushroom gathering took excessive amounts of time and the concrete results of walking the distance anew were scarce. Matt could only accept the self-evident truth. The best results are yielded when he chooses a different path with each trip.
The same holds true for software testing. New bugs and new information about the tested product is found in diminishing amounts with each testing cycle, when you equip the tester with racing horse's blinds and make him tread the same path time after time.
If you have limited amount of time and money, you should focus on the essential. It is most important to detail the goal when planning the tests. That, which has to be tested. When the tester gets to choose his own path, it is certain that there will be more results.