A software project consists of three essential expenses. A short rhyme I made just now with love tells you what these three are all about.
What are little software projects made of?
What are little software projects made of?
Coding and testing and measuring technical debt,
That's what little software projects are made of!
If you stop to think about a little, around one million euro, software project, its expense structure could look like this:
Coding. 600k euro: The software developers have a need to get the software ready to be supplied. Developing all the wanted features in the software takes roughly the same amount of worktime and money in all cases. But you need to get the features in. You cannot escape this fact.
Testing. 50k euro: Another essential expense in a software project is testing. Typically when you go for a hard profit in a software project, testing is the place where they cut the expenses. Most of the time, the testing expenses are around 5-10% of the development's total expenses, when the recommended amount would be 20-40%.
Technical debt. 350k euro: All software projects form technical debt. It consists of the bugs that are found in the end product and of problems that cause additional expenses in the form of reclamations, insurance guarantees and updates after the product has been supplied . In addition, it can cause losses of profit, when your reputation as a supplier gets tarnished.
When such a project produces a turnover of 1.200k euro, the profit is around the level of 200k euro (20%). A well made testing can, however, save the expenses during the entire life cycle of the project by a ration of 1:3.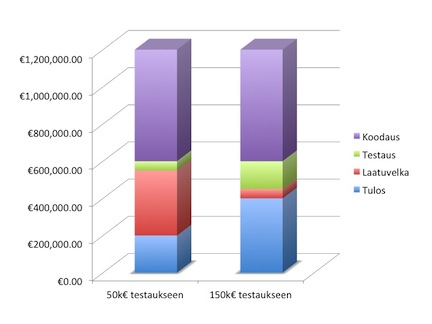 With testing planned right, an additional investment of 100k euro to quality could help find even over 1000 bugs more during the project. The technical debt caused by these bugs would remain unborn and they could be fixed during the product development. With the additional investment, the total sum of expenses of these three is only around 800k euro, but what does that mean, then?
Well of course it means more money! The profit of the software product doubles and a product of higher quality is sure to sell even more!