Dear Guru,
I am writing to you, because what I have is so important. In the upcoming years, I want to witness wonderful success stories, which start from you.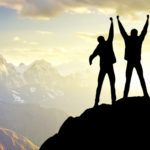 Businesses never buy your help. People might sometimes. There are no exceptions.
People may buy your help should two reasons come to pass. If they know you exist, and if they feel like they trust you.
You cannot birth trust, if you are not known.
First, you need to become familiar. What needs to be done is to offer strangers the opportunity to discover you and what you can do.
Sometimes we say that the first impression is important. We say that it is difficult to change later on. Getting attached to that notion is dangerous, since uncertainty gets a foothold in what you do. You easily start to feel afraid.
The entire equation of specialist work falls short before it even starts. Because, most people do not provide an impression at all when they are afraid. Not even their name lingers behind.
First impression is the first necessity for professional reputation, but the game becomes even more unfair. Your professional reputation is built on other people's silent expectations and polarized thinking way before you even arrive.
Despite that, there are no options, because people buy your help for two reasons only.
As an artisan of expertise you stand for yourself first and mainly. Your customer's most valuable business secrets are always in your hands and not in the hands of the firm you stand for.
It is useful, should your firm have a good reputation. Yet, the most important question is whose responsibility is it to make use of your own or employer's name to open new doors and to produce new trust?
The entire story always returns to one single person. That is you, dear guru. What could you do today to strive for trust and professional reputation?
P.S. I invite you to forge new success stories. If you became inspired by our blog's ideas, it might just be that the Tester 3.0 training will permanently change your life and the flight altitude of your career.